Choosing Methods and Basic Types of Snowploughs

Oct. 19, 2021
Although snowploughs are suitable for everything from skid steers to pick-up trucks to graders, the most common are those mounted on the chassis of dump trucks. These vehicles can be found all over the roads of the states where heavy snow falls every winter.
Snow ploughs mounted on the front, side or underbody (ice scrapers) are the main attachment for snow groomers. In addition, the bodywork of the truck is often able to discharge large quantities of salt and/or sand onto the road behind the plough.
When choosing a snowplough for a large winter vehicle, you want it to not only meet your needs and budget, but also to be guaranteed to last. For this knowledge, it is important to seek the advice of a trusted equipment dealer or manufacturer.
Another factor to consider is the reliability of the tip blade system on the edge of the plough. Most snowplough manufacturers use their own blade technology or rely on established parts manufacturers to supply them with blades capable of cutting through the hardest snow and ice.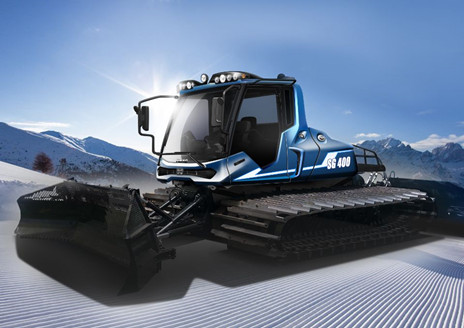 Basic types of snowploughs
Front-loading - The most common use, they are designed to push snow off the road with an angled blade, either to the right or to the left. In addition, they are built for punishing use and must be able to withstand the harsh conditions of many seasons. Reversible, straight and V-plough models, as well as flexible ploughs adapted to the different contours of the road, are standard on the front end of snow clearers.
Wing ploughs - by using wing ploughs, in conjunction with front ploughs and ploughs, crews can improve their snow removal performance by ploughing wider strips. Although usually mid-mounted, some manufacturers also offer rear-mounted models.
Undercarriage snow ploughs - The type name describes the role of these ploughs well. They work in conjunction with other ploughs and take over to a large extent the role of cutting through ice and hard snow from the previous plough. Many companies also offer reversible scrapers.
The number of different subsets of snow ploughs available to buyers is so large that within each basic plough set there are various plough models tailored to different snow removal tasks.
For example, if you are in the market for a front-mounted plough, you will need to choose between a V-plough or a straight-bladed snow plough. You can't go wrong with either, but a straight-bladed snow plough usually costs less than a V. The advantage of a V plough is that it is better at fishing and guiding snow, as well as piling it up - something that a straight blade cannot do. In addition, when faced with snow that has almost turned to ice, the arrow configuration of the V-plough can cut through hard snow better than the flat surface of a straight blade.
Please contact HBXG to get the quote. We'd be happy to help you.