Features of Garden Cultivators and Tillers

Jun. 11, 2022
If you are planning to build a flower bed or garden, a mid-tiller or garden tiller is a great tool to get the job done. Learn about mid-tillers and cultivators and their capabilities so you can choose the right equipment for your planting project.

cultivator selection
Both tillers and cultivators use metal blades to dig into the ground. The size of the job you plan to handle will determine whether you need a cultivator or tiller.
The cultivator is suitable for loosening the soil in existing planting areas, weeding during the growing season or mixing compost into the soil. A tiller is smaller and easier to operate than a cultivator. You can find gasoline-powered, cordless and corded-electric models of cultivators. some gasoline-powered cultivators will crank using an optional power unit that you purchase separately, eliminating the need for a drawstring. Corded mid-tillers require a suitable extension cord. Please follow the equipment manufacturer's recommendations for compatible extension cords and refer to the power cord safety tips.
A tiller is a gasoline-powered machine with a larger working width than a tiller, making it ideal for heavier work. A tiller is more powerful than a cultivator and has larger heavy-duty fork tines for working in the soil.
Front tine tillers can perform general garden maintenance, such as weeding, tilling and composting in small to medium-sized gardens. Smaller tillers like this one have sharp tines that help move the machine when digging into the soil. Some have the option of forward or reverse engagement of the tines.
Rear-fork tiller has engine-driven wheels. These machines are best suited for larger planting areas. They can have forward rotating spike tines that perform well in existing beds for tilling, weeding and working in compost or old vegetation. Rear tine tillers can also have counter-rotating tines that turn in the opposite direction of the wheel. Reverse rotating fork tines have more torque to break up new ground and can dig deeper into the soil.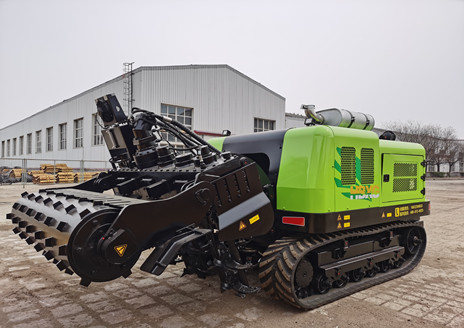 cultivator features
In addition to determining the type of work you need to do, look at the available features and functions of the machine to help you determine the right cultivator or tiller for you.
Two-stroke engines, typically used in cultivators, run on a mixture of gasoline and oil.
Four-stroke engines do not require a mixture of oil and gas.
Maximum tillage depth and width helps you match the machine's capabilities to your planting needs.
Reverse drive on the wheeled tiller provides greater maneuverability.
Air-filled tires provide excellent maneuverability and traction.
Power take-off (PTO) is available for select rear tine tiller, allowing you to use the tiller engine to power optional ground-joint attachments.
HBXG also has bulldozers for sale, please send us an email if you need, we offer great price for you.