Methods to Upkeep Heavy Machines in Winter

Nov. 02, 2021
November has reoccured. Just how time flies! Before winter season embed in, we thought we would certainly supply some beneficial suggestions to aid you finest secure your heavy machinery from the chilly and prevent it from cold. A lot of our clients lie in locations with some extreme cold. While the periodic winter damages usually doesn't assist, there are some precautions you can take to minimise the danger. HBXG shares with you.
Check the freezing
When the temperature goes down below freezing, it is important to examine batteries, wires as well as tubes to ensure they have actually not frozen or been stressed by the cool temperature levels. Not only will an icy battery not function correctly, however it could likewise take off.
In addition, hose pipes and cables can come to be brittle in the cold. To avoid irreversible damages, permit enough time for your appliance to warm up before operating.
Avoid contamination
When refuelling your devices, make sure to make certain that water and also pollutants do not get in the gas tank. This is much more usual in the cold months, so you need to take extra care to avoid contamination of your engine.
Store on higher area
Make sure that your tyres do not adhere the ground as this can cause tears and also driveline damage. You can stop this from taking place by parking the machine on a raised board. We likewise suggest that you position the pail and blades on an elevated surface also.
Defroster

It is necessary to inspect your heating system and also defroster prior to the weather gets cool, as if you wait until winter season shows up to examine your climatic system you might find yourself in for an undesirable surprise. Make certain your taxicab heating unit and also defroster are functioning properly a couple of days prior to autumn and carry out any kind of required repair services in advance.
Minimise the stress
Keep in mind that frost, ice and frozen dirt can make digging harder and this can put stress and anxiety on your maker. Keep a close eye on your devices to ensure that the parts of your machine are working appropriately and that manufacturing is minimised where feasible.
Introducing you to our SD7NLGP dozer: a crawler dozer with semi-rigid suspension, hydraulic drive, high drive and full hydraulic control.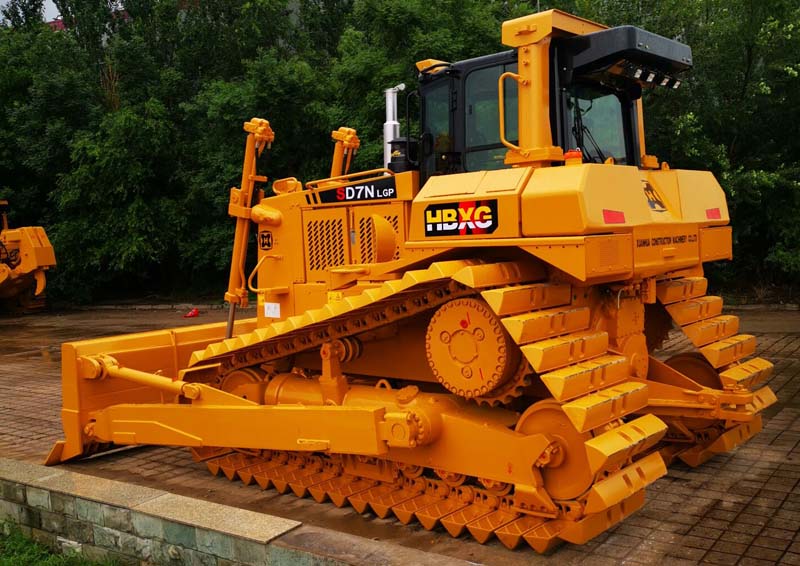 The modular design of the whole machine is the most outstanding structural feature, saving a lot of time in disassembly and assembly. Pilot control, responsive and highly efficient, with ergonomically designed operating system. The multifunctional instrument display, luxurious interior and the international standard anti-rollover cab are distinctive features of the times. It also has optional multiple work equipment and accessories.
Please contact us if you need to buy one.