5 Tips for Buying Used Bulldozers

Apr. 13, 2021
Not all used machines, or sellers, are created equal. Used equipment buyers need to do some extra work in order to ultimately get a good investment.
There are several reasons, from diversification to growth opportunities, for companies to be interested in buying a new Bulldozer. Used equipment provides a great opportunity for companies to expand their ranks when brand new machines are not an option.
But not all used machines or sellers are created equal. Used equipment buyers need to do some extra work in order to ultimately get a quality investment, not a money pit. Whether you're a veteran buyer of used equipment or a newcomer, here are five tips to make sure your chosen used bulldozer is a good buy.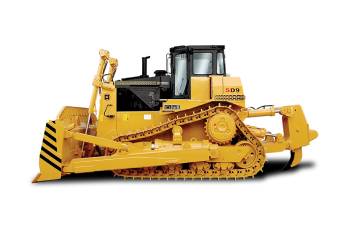 Bulldozer
1. Find the right source
There have never been more opportunities to find a good used bulldozer. Dealers' rental fleets are growing. Coupled with the dealers' excellent maintenance and preventive maintenance of their machines, this is a good opportunity for the company to find good used bulldozers.
Other options, including private sellers and auctions, exist and may require more digging. Ask around, search the Web for online reviews, and do additional research on the seller's history. Look for red flags, such as bad peer reviews, unethical business practices, or even records of stolen equipment.
If going the private seller's route, keep in mind that his or her goal is to sell the bulldozer, regardless of whether the unit makes sense to the buyer. Equipment dealers often have extensive inventory and experts who can help buyers determine which equipment is the best fit. As a business, the dealer not only has a vested interest in happy, satisfied customers, but also a great opportunity for the buyer to buy parts and receive service on the machine along the way.
Of all the options, auctions usually offer a lot of used equipment in one place, but also have their own concerns. Companies that find it difficult to sell used bulldozers themselves often resort to auctions as a last resort. For buyers, there is no recourse if they end up with a dodgy machine.
2. The search has begun
As there are many sellers of used equipment, there are a number of ways that interested buyers can find out what's going on there. Because we live in a digital world, online searching is highly recommended by experts. Not only is the site constantly evolving to make it more search-friendly, so it's easy to find exactly what you want, but online also offers up-to-date inventory options. For example, the website developed by RDO Equipment Company highlights used equipment inventory and provides inside information about the history of the machine.
Being online offers the opportunity to research options for used bulldozers. Most Bulldozers Manufacturers have rich comparison and research tools on their websites. Those who feel more comfortable buying a used bulldozer at a local dealer or rental center can come with some background on what they are looking for and what is on the market. Newspaper classifications and magazine ads are still used, but keep in mind that online usually presents the most accurate, up-to-date products.
3. The timing is right
While seasonal factors in some industries can affect the availability and price of used equipment, this is generally not the case in the construction industry. But timing is still a factor when it comes to getting a good used bulldozer at the best price.
Companies should look 30 to 60 days in advance to see if there is an anticipated job increase or if a certain type of project is coming up and needs an additional bulldozer. This window has enough time to search options and find what you want, rather than settling for what you have at the last minute. If a dealer does a lot of leasing, a bulldozer may come in from the lease during this time period, providing a unique opportunity to purchase machines from the dealer's fleet of leases.
Smart buyers also keep track of the industry as a whole, since market trends often determine the market for equipment. Keep an eye on auction prices, new equipment sales, and other used equipment prices online.
4. All the details
When the right model and type of dozer is found from a quality seller, it's a green light, right? Not exactly. A thorough investigation of a used dozer must be conducted before a purchase is made.
First, ask to see a complete evaluation, including time, records of maintenance intervals and a complete history of the machine. Ask for detailed photos - both general photos of the machine, and photos documenting major repairs and significant work. While a private seller or auction may not be able to provide the required level of documentation, a reputable dealer will have a complete service history, as well as all PMs and repair histories for each machine.
In addition to reviewing the paperwork, a site visit can be made if possible. Signs of wear and tear are normal, but excessive track wear, especially on the landing gear, is a concern. If left unaddressed, both issues can lead to larger problems, sometimes requiring complete and expensive landing gear replacements. Other dangerous items are cracks, rust and leaks.
Most reputable sellers will allow a potential buyer to test the machine. If he or she is not a bulldozer expert, it's worth hiring an experienced operator or service technician. Listen for strange noises, feel for rough operating spots, and be alert for anything that doesn't feel right and make sure the unit is functioning as a whole.
The age of the machine isn't as worrisome as its time. This is another example of how research and machine landing gear can be key points in finding the best deal. A machine with 1,500 to 2,000 hours of use should have a fair amount of landing gear wear, as well as the remaining life of the engine and hydraulic components, so it's likely worth a buy. However, an older machine with more than 4,000 hours on it may be better off if it has recently had its landing gear replaced and the engine and hydraulics are still serviceable. In many cases, the warranty will extend as the machine runs, usually lasting 5,000 hours or more.
5. Commitment to health care
The last recipe for success will continue long after the dozer has become a permanent part of a company's fleet. For new equipment, regular maintenance of older dozers is important to protect the investment and extend the life of the machine. A little effort can go a long way.
At its most basic, a good project management can be boiled down to five key steps:
Daily visual inspection before starting the machine to check for cracks, fluid leaks and other red flags
Check and replenish fluids daily
Daily oiling of critical areas
Regularly inspect the engine, including air and fuel filters
Regularly document maintenance activities, including major work and repairs
In addition to regular PMs, bulldozer owners are advised to schedule a thorough service inspection annually with a local, trusted dealer.
A bulldozer doesn't need to be shiny and brand new to be a great new addition to your fleet. With a little homework and an effort to thoroughly inspect the seller and the machine, a Used Bulldozer can be a solid business investment.