Do You Know the Crawler Type Fully Hydraulic Drilling Rig?

Jan. 05, 2022
Crawler hydraulic drilling rig is a kind of fully hydraulic rock drilling rig with crawler travel mechanism. Crawler hydraulic drilling rig consists of power unit and hydraulic system, crawler travel mechanism, drilling frame with hydraulic rock drill and auger, boom and drill pipe unloading device.
Benefits
Crawler hydraulic rock drill has the advantages of low power consumption, fast rock drilling speed, low noise and improved labor conditions compared with pneumatic rock drill and monk rock drill (air drill).
Crawler type hydraulic drilling rig consists of power unit and hydraulic system, crawler walking mechanism, drilling frame equipped with hydraulic rock drill and auger, jib, unloading drill pipe device, etc. The drilling diameter is 76-127mm, and the drilling depth can reach 30m, which is suitable for large stone excavation and drilling operation.
Features
1. The hydraulic drilling rig is independently pressurized and driven, equipped with hydraulic jack support device, which can be rotated in place and adapted to uneven ground operation.
2. American Sullivan-Palatek is a world-renowned manufacturer of screw compressors, whose screw components are known for high efficiency, reliability and long life. Even under complicated geological conditions, it can provide sufficient gas for hole cleaning and smoothly discharge rock chips.
3. It can automatically adjust the propulsion speed, propulsion pressure, rotary torque and impact pressure according to the rock condition to achieve the best working condition and eliminate abnormal accidents such as thread jamming and wear. The hydraulic system components are selected from domestic and foreign famous manufacturers to ensure the reliability and durability of the whole machine.
4. The hydraulic drilling rig can swing, telescope and rotate, which is mobile and flexible, adapting to the operating environment and shortening the operation preparation time.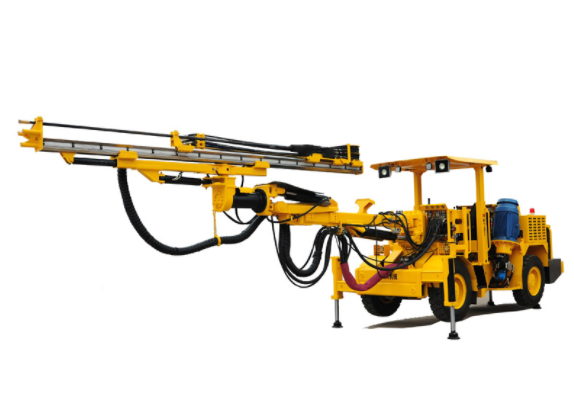 Applications
Pneumatic drilling rigs for mining: simple and efficient drilling rigs for coal mining operations. Crawler type pneumatic drilling rig is a walking and drilling compressed air powered drilling rig. Although it sounds complicated, it is simple to operate. One row of operating table with 6 operating levers: forward, backward, rotate, adjust drilling position and angle, and drill with one key.
Hydraulic drilling rig can be connected to high pressure outlet for use, no motor, no electricity, no explosion hazard, high safety. Pneumatic crawler drilling rig can work across belt and scraper, suitable for water hole, air hole, pressure relief, punching hole and other downhole drilling.
We are the supplier of crawler hydraulic drilling rig, if you need, please feel free to contact us.